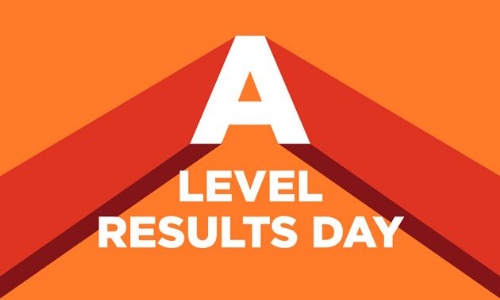 Congratulations to our A level students for a fantastic set of A level results.
21 students attained A*/A or equivalent in all their subjects.​
Thomas Alleyne's High School A level students have followed last year's cohort with another set of strong A level results. Early analysis has revealed that half of all grades achieved are A*, A or B. Perhaps most importantly the pass rate is 98% which has once again enabled students to continue secure top university places and Higher Apprenticeships in companies such as Rolls Royce.
Alison Trenery, Chair of Governors, commented, 'These are a really pleasing set of results and the governors send their congratulations to our A level students. We wish to thank the students, their parents, and the staff for all their hard work this year.'
A high proportion of students achieved exceptional A-level results, including Haydn Tortoishell who achieved A* A* and A* and will take up a place at Durham University to study Biological Sciences, Samuel Hill who gained an outstanding A* A* and A* and will continue his studies reading Natural Sciences at York University and Sophie Parker who attained A* A* and A and will be studying Medicine at Leeds University. Other noteworthy grades include Dominic Taylor, Robert Dingley, Lucy Cooksedge and Madeline De Soyza all of whom achieved A*, A, and A in their A-level subjects and will all take up university places at their first choice university.
Vocational subjects have also continued to secure superb results which will place students in the top 1% nationally for their achievement. This was particularly the case in BTEC Health and Social Care where Danielle Broomhall, Erin Ball, Danielle Harley, Alexandra Cullumbine, Louisse Adamos, Chloe Collins, Zoe Adams and Annie Sidwell all achieved 3 Distinction *s. (The equivalent of 3 A*s). Thomas Alleyne's High School Head boy and Head girl have also both secured places at Universities of their choice Andrew Cleare has secured a place at Newcastle University to study Economics and Finance; whilst Louisa Kelly will be moving on to study Drama and Theatre Arts at Birmingham University.
Mrs Dodd Senior Assistant Head teacher and Head of Sixth Form said, "I am once again delighted to congratulate so many students in achieving such positive results which in turn have allowed them to progress on to their chosen destinations in Higher Education, employment or training. Such grades are testament to students' hard work, perseverance and determination. I am truly privileged to have worked with such a diligent group of learners. As well as congratulating our Sixth Form students, I should like to extend my congratulations to parents and families who have provided so much support.''
Mrs Rudge, Headteacher, commented, 'Congratulations to all students for an excellent set of results. We wish them all the best for the future, be that in the world of work, at University or in completing Apprenticeships. They will always be Thomas Alleyne's students and an important part of our school community.'
If anyone is interested in joining the Sixth Form, please contact the school on 01889 561820 or email sixthfom@tahs.org.uk"