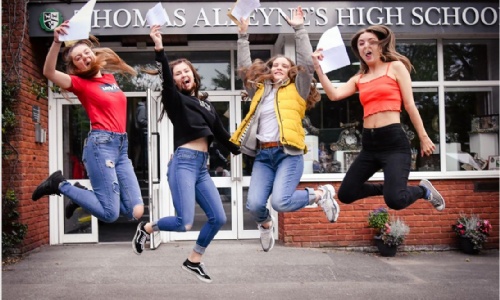 Exam Results Frequently Asked Questions
FAQs: Summer 2020 Results
WHAT HAS HAPPENED SINCE CLOSURE
Ofqual (The Government Office for Qualifications and Exams Regulations) asked teachers to enter a 'centre assessed grade'- the grade that we think you would have received in the summer if the exams had gone ahead. Students were then be ranked within a grade.
The grade was based on all classwork, homework, coursework and assessments (whether in class or exam setting) so offered a fair and objective assessment. It was moderated within departments and by the School Leadership Team.
We are not allowed to share grades or ranks at this stage.
What is happening at the moment?
Centre assessed grades have now been submitted by the school. They were carefully moderated in school by teachers and school leaders. They will be now centrally moderated by and across exam boards, which means they will be compared against national trends and statistics and final grades determined.
Is this the same for BTecs?
The procedure for BTecs was similar to the process for GCSE and A level, in that teachers had to look at the information that they had about students to produce a centre assessed grade for the coursework units. This was entered to the exam board, who will then moderate and standardise to determine a final grade.
(Updated: 6th July 2020)
WHAT HAPPENS WHEN I RECEIVE MY RESULTS
Now grades have been submitted, the exam boards will begin the process of determining a final grade. They will look at a variety of information based on the student as an individual and the school as a whole.
The final grade may differ from what teachers have submitted.
When will I receive my grades?
You will receive more information about this shortly, but results days are:
A Levels- Thursday, 13th August 2020
GCSEs- Thursday, 20th August 2020
(Updated: 6th July 2020)
What can I do if I am not happy with my final grade?
If you do not feel satisfied with the grade received, there are several options:
You can ask the school to check whether we made an administrative error when we submitted the centre assessed grade. It is important to know that all grades were checked and moderated before they were sent.
If the school has made an administrative error or if the school believes that the exam board made a mistake when calculating, assigning or communicating a grade, you can also ask the school to place an appeal on your behalf.
You will be given the opportunity to resit in Autumn 2020. In a change from what was originally announced by the DfE in April, if you do choose to resit, the HIGHER grades will stand.
More details are available on the OFQUAL website, under the section Appeals 2020: https://www.gov.uk/government/news/ofqual-publishes-more-details-on-appeals-and-confirms-autumn-exam-arrangements
(Updated: 6th July 2020)
Can I appeal against the centre assessed grade awarded by the school?
Ofqual have given consideration as to whether a student can appeal the centre assessed grade or rank. On balance, they decided it would not be in the interests of students or the fairness of the arrangements overall. Firstly, any appeal would have to be undertaken by someone better placed than the student's teachers to judge their likely grade if exams had taken place – in the unique circumstances of this summer, we do not believe there is any such person. In addition, because of the role of the rank order in grading this year, such an appeal would have implications for other students in the cohort: if one student successfully appealed against their position in the rank order, it would have negative implications for other students who would, in turn, need to be given an opportunity to appeal.
The school is not able to provide any information prior to results days (A level- Thursday, 13th August; GCSE- Thursday, 20th August).
You can request this information after your relevant results day, although bear in mind that the limited appeal process set by Ofqual means that the grade awarded will remain the same. Staff will be available on results days if you wish to speak to anyone regarding your results. Students can email inforequest@tahs.org.uk by Friday, 4th September, with the email subject 'Information Request' and you will be provided with the relevant forms..
Can I re-sit a subject if I want to?
If you are not happy with the grade that you receive, you can choose to re-sit ANY subject. You will have to sit all the exams for that specific qualification. For example, if you wanted to re-sit GCSE Maths, you would sit all three papers. There may be a fee for exams you wish to re-sit.
If you wish to be re-entered for any qualification, please contact Mrs Sosinski, the exams officer, at exams@tahs.org.uk using the email subject: Re-sit Request. Please include the student's name and the name of the subject they wish to resit.
AS and A level entry requests must be received by Wednesday, 2nd September.
GCSE entry requests must be received by Wednesday, 16th September.
(Updated: 10th July 2020)
Will I be able to attend lessons?
The only subjects where there will be timetabled resit lessons will be for those students who are remaining at Sixth Form at Thomas Alleyne's and who do not achieve a Grade 4 in their English Language or Maths.
I'm not staying on to Sixth Form, so where will I sit the exams?
The exams will be taken at Thomas Alleyne's High.
When will the exams take place?
Exam boards have not yet published subject specific information yet. We do know that the window for exams will be:
A level: Monday, 5th October- Friday, 23rd October
GCSE: Monday, 2nd November- Monday, 23rd November
As with any exam series, you must be available between those dates for any qualifications you choose to sit.
(Updated: 10th July 2020)
What about subjects where there is Non-Examined assessment- will this count towards my re-sit grade?
It is important to note that any Non-Examined Assessment will NOT be included in the grade if you choose to re-sit. It will consistent of the papers that you would have sat and your grade will be based solely on performance in those papers.
WHAT HAPPENS WITH MY FUTURE PLANS
Everyone in the country is being affected at this time. Colleges, universities and employers will know what has happened and be supportive.
Your exam certificates will report a grade, like any other year.
I have secured a place in the Sixth Form at Thomas Alleyne's- what happens next?
We offered your place and courses based on the grades that we felt you were going to achieve in the summer. You will have been contacted about Sixth Form and should have been working on 'Bridging Work' to prepare you for Post-16 study. If you have changed your mind about any of your options, please remember it is not too late to change these, as long as we are able to timetable them. Do not just stop doing bridging work- email sixthform@tahs.org.uk, so that you can receive support with your choices.
(Updated: 6th July 2020)
I have applied to college and been told I need to get certain grades, will they accept my grades?
College, sixth forms and universities are all aware and supportive of you, but you will still need to meet entry criteria. Once you receive your results, contact the college to confirm your place, but if you need any help, please do not hesitate to contact us.
What about my University application?
UCAS and all universities are fully aware of this change in assessment for students and are being as supportive as possible. They have currently stopped making any changes to offer, conditional and unconditional, whilst they review their processes. It is worth visiting their website to check up on any changes: https://www.ucas.com/coronavirus-updates-hub
If you do have queries before the exam results days, please do not hesitate to contact us at headteacher@tahs.org.uk with the title in the email Exam Query.