"Geography is a living, breathing subject, constantly adapting itself to change. It is dynamic and relevant"

Michael Palin
Introduction:
In the Geography Department we aim to give students the skills to explore and participate in their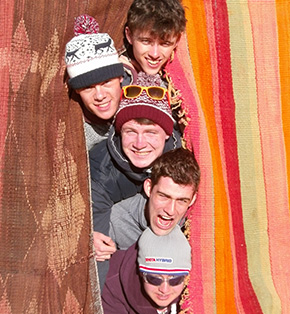 world. We want to challenge students, and develop their abilities to investigate and to question the world around them. Our curriculum seeks to inspire and engage students, and to promote a love of learning and ability to enquire and analyse the interactions between people and the Earth. Our vision is that students will grow as independent learners with a geographical toolkit that will ensure they are inquisitive, literate, technologically astute, numeracy confident, and active global citizens.
Year 9 Geography:
In Year 9 we are constantly developing our curriculum to make it dynamic and relevant to the students we teach. We investigate many diverse topics in order to inspire and engage students with the world at their doorstep and internationally. Students will follow an enquiry based curriculum that aims to develop a range of skills including map skills, field work, investigative and critical literacy, collaboration, independence and data analysis.
Year 9 includes topics such as Festivals, National Parks, Dangerous places, Globalisation and Water
GCSE Year 10 and 11 Geography:
We follow the EDEXCEL GCSE exam specification. This exciting course is focuses on the balance between the physical and human world's. It allows students to investigate the link between the two themes, and approach and examine the battles between the man-made and natural worlds.
Living with the physical environment involves studying the following topics;
The challenges of natural hazards,
The living world and
The physical landscapes of the UK.
The challenges in the human environment involves studying the following topics;
Urban Issues and challenges,
The changing economic world and
The challenge of resource management.
An important part of Geography is the range of skills you develop. These are developed in the Geographical applications section and involve you studying;
Issues evaluation,
Fieldwork and
Geographical skills.
This specification offers
a stimulating and imaginative issue-based approach to Geography
an insight into future challenges through the study of current issues of local, national and global importance
an awareness of human's responsibilities to other people, the environment and the sustainability of the planet.
The GCSE is assessed via three terminal exams worth 100% and is summarised in the table below.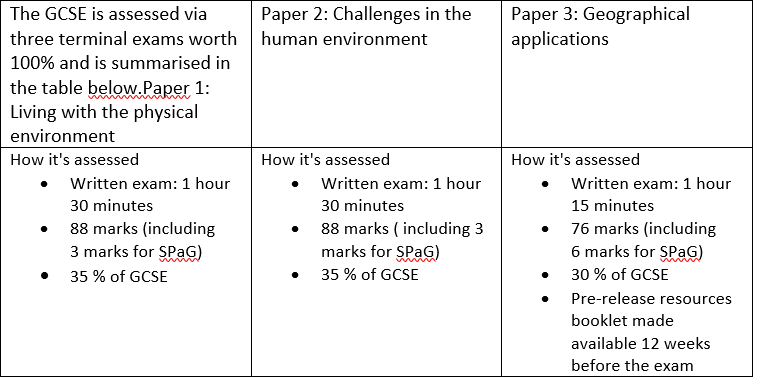 GCSE Year 12 and 13 Geography:
We follow the EDEXCEL exam specification. This is a balance of human & physical Geography and is summarised in the tables below.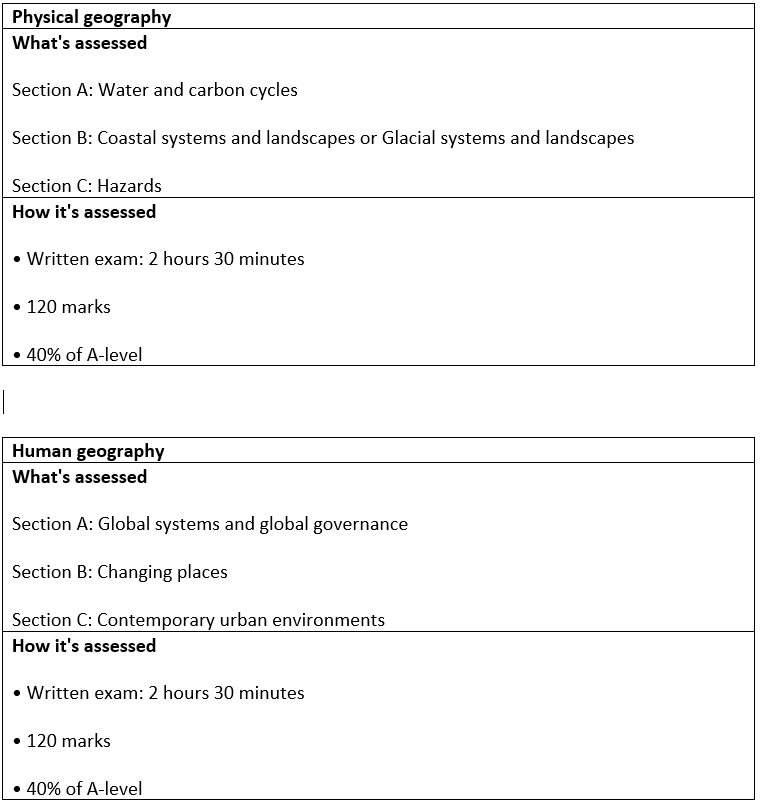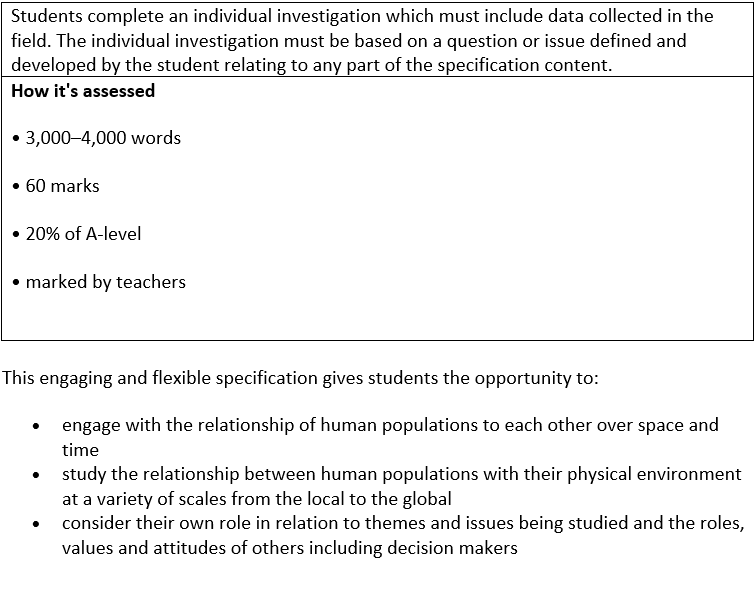 updated September 2017