Welcome to the P.E Department
I would like to offer you a warm welcome on behalf of the PE Department. We are an enthusiastic and vibrant department that strives to achieve the best from all of the students.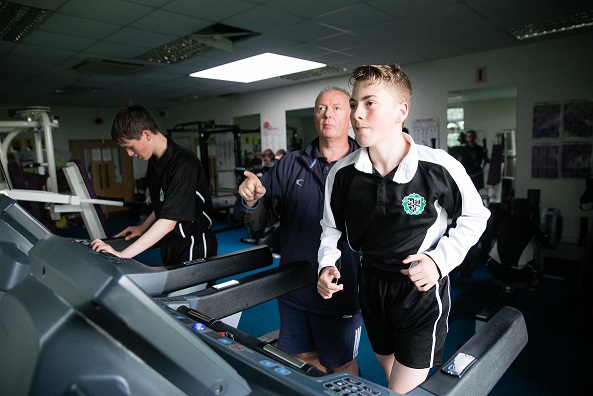 We pursue the school aims of progress, individuality and opportunity. Students will progress when they use and apply their own individuality. The department offers as many opportunities possible for them to strive to achieve this aim.
We pride ourselves on that fact that we have excellent participation rates because we offer a broad and balanced curriculum that is adapted to suit the needs of different cohorts of students. The variety of activities offered include team and individual games, athletic, aesthetic, Health Related and swimming based activities.
Our lessons focus on developing students to become independent learners where they are expected plan and evaluate, to think for themselves and for their peers and to be responsible and accountable for their actions. Such qualities are challenged through lessons and a very extensive extra-curricular programme of practices and school team competitions.
The department has strong links with the other schools within the Uttoxeter Pyramid and our students are encouraged to support and lead sporting events in those establishments. Therefore, we offer a structured leadership module in Core PE lessons to help develop the skills required to support these events.
Some of the sporting highlights of Academic year 2017/18 are available to read and download at the bottom of this page or (click here to view). Please take the opportunity to read about the achievements of Thomas Alleyne's pupils and their sporting prowess
A Career in Physical Education or Sport
In the modern era of sport, success is not solely contributed to physical performance. The elite sportsperson has to consider so many others physiological, physiological and sociological factors when striving to achieve 'perfection'.
The First Step - GCSE Physical Education
GCSE Physical Education is the start to understanding this process. The course is delivered through practical and theoretical elements. We expect students to be passionate about sport and to take pride in their work and performances.
Written Work
Students are expected to commit the necessary time to produce high quality pieces of written work that show evidence of research, planning and dedication.
Practical Work
Students are expected to perform to a high standard. High standards are achieved through practice and perseverance so there is an expectation that all students should be participating in activities for clubs either in or outside of school.
The Second Step - BTEC LEVEL 3 IN SPORT & EXERCISE SCIENCE
This is an A level equivalent course with 2 examined units on Anatomy and Physiology and Fitness Training and 2 assignment based units on Fitness Testing and Careers in the sports industry.
This vocational style qualification researches all of the aspects involved in the field of Sport and Physical Education. Work is project based and requires students to work independently and be responsible for their own planning and meeting of deadlines. There will also be the offer of formal qualifications such as Emergency First Aid.
Higher Education Courses
In the past students have applied for some of the following Higher Education Courses;
Sports Science
Sports Management
Physiotherapy
Sports Development
Sports Coaching
Sports Psychology
Nursing
Employment opportunities
Sports Scientist
Events Management
Sports Psychologist
Sports Physiotherapist
Sports / Educational psychologist
Sports Agent
Policeman
Armed Forces PTI
Sports Coaching
FACILITIES INCLUDE
SPORTS HALL, GYMNASIUM, EXTENSIVE PLAYING FIELDS, ASTRO TURF PITCH, FITNESS CENTRE, SWIMMING POOL, CLIMBING WALL
CLUBS
Thomas Alleyne's High School participates in various leagues and runs teams and clubs in:
ATHLETICS, BADMINTON, BASKETBALL, CHEERLEADING, CRICKET, DANCE, FOOTBALL, NETBALL, ROUNDERS, RUGBY, TENNIS, SWIMMING, FITNESS, CLIMBING, TABLE TENNIS
The Physical Education Department Team
| | |
| --- | --- |
| | |
| Mr C Barrow | Head of PE |
| Miss S Jones | Head of WhitmoreHouse |
| Miss R Fletcher | Teacher of PE & Maths |
| Miss H James | Swimming Instructor |
| Mr D Godwin | SENCo |
updated September 2017