CURRICULUM STATEMENT
Reviewed: October 2017
The "Key Stages" are a system of setting out targets within the National Curriculum that are expected to be achieved in various subject areas at each point of a student's education.
The Key Stages relevant to Thomas Alleyne's are:
Key Stage 3
A largely common curriculum is followed with all students being taught English, mathematics, science, technology, ICT and computing, French, art, geography, history, RE, music, drama and PE. PSHE is delivered through tutor periods and a Y9 Citizenship Day. All Year 9 students receive information, advice and guidance regarding careers as part of the options process and through the PSHE tutor program.
Assessment of progress is by teacher assessment at the end of the Key Stage.
Key Stage 4
All students follow a core curriculum of:
English Language and English Literature
Mathematics
Science – either Triple Science or Double Award Combined Science
RE
PE (non-exam)
In science the top 2 sets in each population will study separate sciences in physics, chemistry and biology. Set 3, 4 and 5 follow a double award course of combined science. Computer science is offered as an option for those who wish to study further with a view to a career in this area. In addition to the core subject's students can choose optional subjects as shown in the table below. Information advice and guidance for careers education is delivered through the tutor program along with units on RESPECT, Personal Finance, E-safety and Learning 2 Learn. The key stage four curriculum is reviewed annually to take into account Department for Education requirements and to ensure it is in line with that offered by other schools in the locality.
The Key Stage 4 Curriculum
Years 10 and 11
Subjects
(all single awards, unless indicated)

GCSE/Equivalents

Compulsory

English Language and Literature

2

Mathematics including computing

1

Science – students will study double award Combined Science or 3 Separate Sciences:

Double Award Combined Science
Biology, Chemistry, Physics (3 awards)

3

2

Physical Education

0

Religious Studies

1

Options

Optional subjects available in Key Stage 4 include:

Computer Science French

Geography History

Art & Design Food and Nutrition

Drama Animal Care

Health & Social Care IT

Business Studies PE (GCSE)

DT Music

Children's Play, Learning and Development

3/4
Progress 8 - The New Progress 8 Measure
From 2016 all students and schools will be measured on how much progress they make from when they start in Year 7 to when they complete their exams at the end of Year 11.
This will be known as Progress 8
Progress 8 will be based on students' progress measured across eight subjects. For each student the eight subjects must be a combination from the diagram below.
The Progress 8 score will always be determined by dividing the points total by 10 (the eight qualifications with English and Mathematics counting double), regardless of how many qualifications your child sits or in which subjects.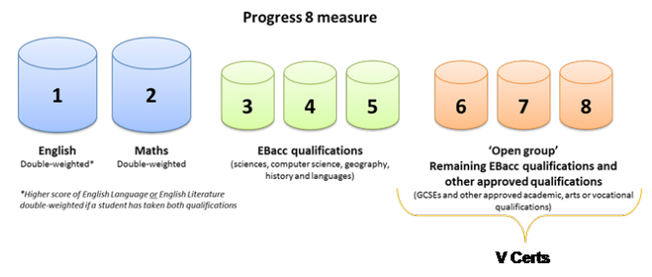 What this means for our curriculum at Thomas Alleyne's High School:
We offer a broad and varied curriculum to ensure that all students have the opportunity to fulfil all of the elements to make up the progress 8 measure.
Intervention and boosters will focus on maximising progress at all levels to ensure that students reach their full potential.
What does this mean for my child?
Careful consideration of KS4 option choices
Hitting the ground running in Year 10
Achieving across all subjects not just 5
No dropping subjects when the going gets tough
Carefully monitoring progress all the time
Thomas Alleyne's High School is committed to securing the highest standards of teaching and learning and consequently significant resources are invested in the professional development and training of our staff. Our expertise has been used to train colleagues in other schools and we have been delighted to have made a contribution to improving teaching and learning through successful involvement in the SSAT's Embedding Formative Assessment two year research project.
Updated October 2017