Parent news
August 23rd
Dear all,
I hope you are all well. I realise that some students may be feeling more anxious as we prepare for reopening and there will be many questions. Please see the updates below which I hope will cover most of their queries. We are looking forward to seeing everyone back.
I have kept 'new' items at the start of the newsletter. If you have any further questions, please contact us at headteacher@tahs.org.uk
Face covering guidance:
Students must wear face coverings on buses. They are optional in school. (Under gov review)
Currently at Thomas Alleyne's if students or staff wish to wear face coverings to school, it is essential that they bring a plastic bag with them to put the face covering in when they wish to remove it. Students will move classrooms twice a day and we envisage that it is at this point, that some students and staff may want to wear their face coverings. Guidance continues to be updated on this and I will update you of any further changes.
BTEC results
Thank you to BTEC students for your patience. We will release the level 3 results (Post 16) on Thursday 27th September and the Level 2 results on Friday 28th September. Please queue socially distanced at reception anytime between 8am – 11.00am and 3.00pm – 4.30pm. We appreciate you using our one-way system for these days entering via Back Lane and leaving via our front gates. We are not able to access school on these days as we are completing a deep clean of site in readiness for opening. For this reason, results will be issued from reception.
November examinations.
Please remember that if any Year 11, 12 or 13 student wishes to sit an examination, they must submit their request to the school by 5th September.
Canteen update from Chartwells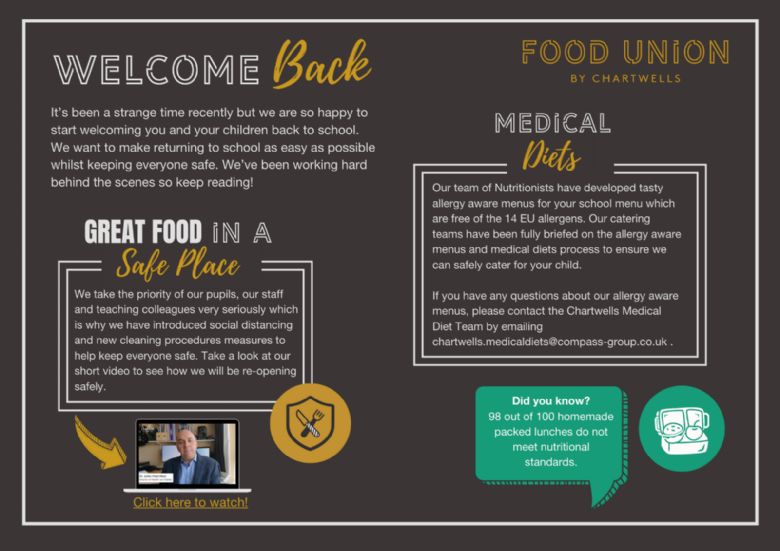 The canteen will be running a smaller menu initially,
For break service there will be four choice items, these will vary slightly each day with the favourites being kept the same e.g bacon sandwich, waffle, cheese on toast and oatcakes. As we are able we will introduce more variety. There will be a choice of four drinks plus water.
At lunch there will be a main meal and vegetarian option, plus jacket potatoes on the main counter. There will be a small variety of sandwiches available (again when possible the range will increase)
The hot snack items will also be available on both counters, there will be two options of these each day.
The above changes will ensure we can keep to service times and get through any queues quickly.
whilst ensuring that the dining area is cleaned in between services.
We are also providing our sixth form with a separate servery.
Careers Support and Guidance:
TAHS Careers Support: Elaine Tomlinson, our Careers Adviser from Entrust is is offering an online service to anyone needing careers advice and help with their options. Elaine can help explore the different options and routes that are available to students, she can also provide information on different courses and apprenticeship routes. She can also help with employability skills including CV writing, application forms, interview techniques and using social media and other methods of job and apprenticeship search.
Her email is: elaine.tomlinson@entrust-ed.co.uk and she will answer any queries by email or arrange a call back if needed. Please provide as much detail as possible so she can try and answer as many people as possible as quickly and effectively as she can. Entrust provides independent and impartial careers advice so please do get in touch if you need any help or advice or have any questions.
National Careers Service: The National Careers Service https://nationalcareers.service.gov.uk has set up an exam results helpline during August 2020. Young people or their parents can contact the helpline on 0800 100 900 to speak to a professionally qualified careers adviser if you need advice on your next steps. The helpline will be open from 8am to 10pm from Thursday 13 August until Friday 28 August. After these dates, you will be able to access ongoing support from the National Careers Service at any time by calling 0800 100 900, visiting nationalcareers.service.gov.uk/contact-us or by searching for the National Careers Service on Facebook and Twitter.
First day back
As there are a number of changes on site, we will need to invite a maximum of 2 year groups in at a time so that we can run through the changes and the one way system with them.
2nd September Year 9 only (Please enter through the front gates of school and you will be directed to meet your form tutor)
3rd September Year 11 and 13 only (Please enter through the new Maths block gates)
4th September Year 10 and 12 only (Please enter off Back Lane)
7th September Full opening for all students
Plan for your first day
You will spend your first lesson 8.40 – 11.00 with your form tutor running through the changes to site, your timetable, and an induction. You will then go to lesson two 11.05am – 1.20pm and then lesson three 1.20am – 3.05pm.
Previous News:
The information below has not changed since our last update:
We continue to work to ensure everything is in place for students to return full time to school in September. We are fully staffed and wherever possible, your daughters and sons will have specialist teachers for all subjects. We have appointed additional cleaners, site staff and teachers to support us if needed.
As has been described in previous newsletters, we have put in place new systems to allow the school to run smoothly and to comply with the guidelines provided by the Department of Education.
We will be running with an amended timetable for September and have the original timetable prepared. We will review the new timetable.
The timetable we have planned for students, allows us to maintain our broad and balanced curriculum. Teachers have been preparing for how to use the longer lessons effectively and individual curriculum areas are adjusting how they deliver their subject according to government guidance.
We will not be doing any practical activities prior to 5th October unless these are essential.
Lunches and Breaktimes
These must be staggered to reduce students mixing across year groups and therefore our school day has changed from September. Students will be taught for three 110-minute lessons. We will have 2 breaks during the day and a canteen menu will be available.
Free school meals will be provided as usual for those students entitled to FSM funding. Students may spend their break in the canteen, theatre, Ede Studio or outside on the basketball court. They must not be on corridors during their breaks. When returning to their classrooms on corridors they must be silent to prevent disruption to learning for others.
| | |
| --- | --- |
| 8.40 | Lesson 1 including a 20-minute break. |
| 11.05 | Lesson 2 including a 40-minute break |
| 1.20 | Lesson 3 |
| 3.05 | End of school day |
Transport
All parents will have received a letter from Staffordshire LA regarding school transport. Buses will operate their normal timetable. If students wish to cycle to school, we will be providing areas where they can lock their bikes in school. If you are needing to use public transport you must follow guidance in wearing a face covering.
Changes to curriculum PE
We are unable to have our normal practical PE lessons at the outset of the year. We value and understand the importance of sport for young people and will reinstate practical lessons as soon as we are able to. We hope to do this on 28th September. Please ensure you have purchased a PE kit for your daughter/son ready for the re-introduction of practical PE on this date. The PE department will be sending out further guidance at the start of the academic year.
During the time allocated to core PE, the department will be providing theory lessons and students will be encouraged to use the time for independent study. Students completing GCSE/BTEC or A level PE will have appropriate practical sessions planned into the year to meet the demands of the course. No PE kit is required in school prior to 28th September.
Marking
Teachers will be making early assessments on students' progress during lockdown. They are recommended to leave 48 hours between students using their books and teachers marking them. We have learnt a lot during lock down, and therefore will continue to use Office teams to mark work where feasible.
Online learning
All staff will be using Microsoft Office Teams in the event of a further lockdown. Students in Year 9 will be trained in how to access this provision to ensure this runs smoothly if required.
Communication
Due to the guidance to reduce contact we are unable to meet parents without notice as the meeting rooms must be vacant and cleaned prior to use. We encourage you to communicate via telephone or email. Where this is not possible, we are also able to communicate with families via Microsoft office. Plans for parents' evenings are under review. The carpark at the front of the school will be part of the one way system for students and therefore will not be accessible to visitors.
Bubbles
Students must be kept in year group bubbles and should minimise mixing with other year groups. Assemblies will be delivered remotely. Students will only move classrooms twice in a day.
September return
On Tuesday September 1st we will hold staff inset day to complete final preparations to site and to complete induction to the revised site for staff..
Illness
Students who have symptoms of Coronavirus must not attend school. They must self-isolate, inform the school and arrange a test. If other members of the household have Coronavirus all members of the household must self-isolate for 14 days. If anyone in the academy becomes unwell during the day and shows any symptoms of Corona virus you will eb contacted to collect them from school and given guidance.
Lockers
On your induction days you will be given the opportunity to collect any items that have been left in your lockers. If you are currently in year 11 or 13 this can be done on Thursday or Friday of this week or after the Summer. All items will be kept in a safe space for you.
Section B
Frequently asked questions:
How have you created a one-way system round school? For instance, the Science staircase has a narrow staircase leading up to it?
As far as possible we are hoping to have a one-way system across the school site especially indoors. This is required because we have some very narrow corridors. We will be creating a new corridor across the top floor of the Science corridor to improve circulation. We will walk you through it on your induction days.
I usually have my drama lessons in Ede but it is being used for lunches where should I go?
We are creating a new space for drama lessons and will update you during your induction.
Where should I go when I arrive in school?
When you arrive through your nominated entrance, you should go to your form tutor base. Staff will be on hand to tell you where this is and we will share this information with you prior to reopening via insight.
Entrances:
Year 11 JCB
Year 10 Back Lane
Year 9 Front gates
Post 16 socially distanced through any entrance.
How do I know what lessons I have?
We will be sharing your timetable with you via insight at the start of term and will have a paper copy ready for you when you arrive on your first day.
I have collected my exercise books should I bring these with me?
Yes, we need you to be responsible with the exercise books we have provided you with. These are for next year and must be brought into school. Teachers are not able to give out exercise books. Please check insight each day and bring the correct exercise books and the equipment listed below with you.
How will I find my way round the new layout?
During your induction day your teacher will walk you through the one way system. You will also practice a socially distanced fire drill.
Will students need to arrive at different times?
Because of the number of students who travel by bus, we will not be staggering the start and end times of school.
Has the time of the day changed?
The start and the end of the day will remain the same. We will start lessons at 8.40am and finish at 3.05pm.
How will my child wash their hands more frequently?
Sanitisers will be in each classroom for students to use on entry and exit.
When will they see their form tutor?
For year 9, 10 and 11 they will have 3 extended sessions with their form tutor over 4 weeks.
When will they have their breaks and lunchtimes and have these changed in length?
Their breaks remain 20 minutes long and lunch is 40 minutes. The breaks and lunch times will be staggered across the day for different year groups.
Where can they go at break and lunchtime?
We are planning to serve food in our school canteen for Year 9, 10 and 11. The canteen has been adapted in light of guidance. For instance, all cutlery will be removed, and meals will be served in disposable boxes rather than on plates. The canteen space is only for students who are buying food from the canteen. The Theatre and Ede studio will also be set out so that students bringing sandwiches can eat indoors if they wish. The basketball court will be available as an outside space for students.
Won't having staggered breaks cause noise when others are in lessons?
We will be insisting that students make their way quietly from their classrooms to their social space, be that the theatre, Ede, the canteen or basketball court, to prevent disturbing others who are in lessons.
Will students mix on buses?
The advice is that students should avoid public transport wherever possible. The school buses will be running, and we will share guidance from the Local Authority with you when we have it. The expectation currently is that students wear masks on the bus.
Will classes be different?
Classes will remain the same. Schools are asked to welcome all students back to school fulltime and therefore we cannot create smaller groups.
What is the school uniform?
School uniform is our usual uniform without a blazer. We ask that students replace the blazer with a plain black sweatshirt round or v neck. We hope to have everyone back into blazers for October half term.
My child is shielding: what should I do?
Please contact us at school to discuss a risk assessment for your child. Please email Mrs Maingay at maingay@tahs.org.uk
How will you reduce congestion?
We have allocated separate entrances/exits for each year group.
Year 11 will be asked to use the entrance opposite the bus station and near our JCB/Maths/Science blocks.
Year 10 will use the entrance from Back Lane.
Year 9 will come through the front gates.
The school will operate a one-way system inside the building.
Will my son or daughter receive their normal curriculum, or will the curriculum be narrowed?
As a 14 – 19 school, it is crucial that the provision we put in place allows students to receive teaching from their specialist teachers in preparation for their GCSEs and A levels. For this reason, we decided to keep the curriculum our students study as close to normal as possible. We will still offer all subjects to our students.
Will you be cleaning school more often?
Yes. We previously employed cleaners only at the start and end of the day. We will now be having 4 cleaners working throughout the day in addition to the cleaning at the start and end of the day.
What equipment does my child need?
In addition to the exercise books we have provided student with. We are advised to minimise sharing of equipment and so where families are able to, we ask that all students arrive in school with:
Pencil
Ruler
Rubber
Sharpener
Scissors
Glue stick
Protractor
Set square
Calculator
Compass
2 Black biros
1 green biro
Black fine-liner
Pencil crayons (ideally Crayola).
If you need support purchasing this equipment, please email Mr Godwin at godwin@tahs.org.uk
Do I need to wear my full sixth form uniform when we return?
During September, sixth form students will not need to wear a blazer unless they wish to do so. It is a safeguarding requirement that all post-16 students always wear their sixth form lanyard/ID card.
What about my study and Sixth Form 7 periods?
Students are welcome to remain on site during these times and will have dedicated areas for their personal study. To support the safety of our school community, we will temporarily allow sixth form students to work at home when they do not have timetabled lessons.
Can I do paid work if I am not in school for a lesson?
No. School hours will remain 8.40am – 3.05pm and therefore, completion of paid part-time work during this time is not permitted. If students are not on site during this time, it is expected that they will continue to develop and expand on their independent learning skills by completing school activities e.g. sixth form 7 whilst at home. All sixth form students will be asked to sign a sixth form code of conduct to show that they understand this.
What about food – will I still be able to go into town?
Our priority is to make the school as safe as possible, and therefore upon return we request that the sixth form do not go into town to purchase food or other items. However, we will be providing a sixth form servery where students can purchase food which will prevent the need to leave site. As always, students are welcome to bring their own food with them to school.
Can we use the common room?
Yes, the common room will continue to be a dedicated study space for sixth form students. Initially we ask that students do not use the kitchen area, and that they ensure the space is kept tidy without clutter to reduce the likelihood of infection and to support our cleaning team. In addition, we will be changing the seating to ensure that the area is as clean and safe as possible.
Where will sixth formers go at break and lunch time if year groups must stay in bubbles?
When we return, we ask that sixth form students stay in the sixth form area during this time, including the lawn area in front of the sixth form block. They must socially distance from all other year groups.
Take care and stay safe.
Mrs Rudge