The aim of the Computing/ICT Department is to help all students build their confidence in both the use of information technology and programming and to develop their logical thinking.

Head of Department: Mrs J Hadfield
This equips our students in as many ways as possible to meet the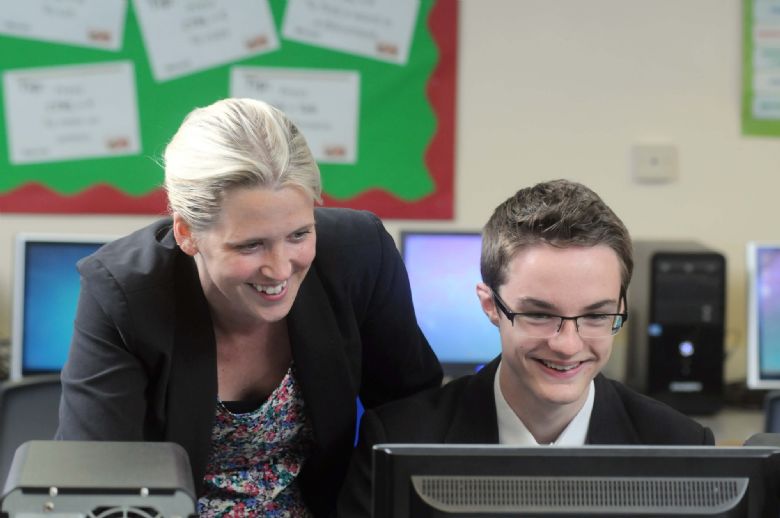 technological and information-centred challenges of a continually changing e-world. As more and more of our daily work and leisure lives become increasingly dependent on digital networks, the Internet and the microchip, it is vital that we foster in our students healthy, productive and creative relationships with these technologies and systems. We aim to develop the practical, intellectual and independent learning capabilities of our students so that they can confidently and wisely engage with ever-evolving technologies well into the 21st century.
Key Stage 3 Information
We endeavour to help make the transition from middle to high school as smooth as possible. Throughout Key Stage 3 students study many aspects of computer programming and information technology skills. Learning will be a continuous process, building on knowledge gained during Key Stage 2.
In Key Stage 3 we are constantly developing our curriculum to make it dynamic and relevant to the students we teach. Recent changes in the computing and ICT curriculum have made it important that we introduce the youngest students to programming skills and logical thought processes associated with this activity. We also cover essential work based skills to equip the students in their working world later in their careers, such as the use of word processing, spreadsheets and databases.
Key Stage 4 Information
OCR GCSE Computer Science
Computer Science is relevant to the modern, changing world of computing, it's designed to boost computing skills essential for the 21st century.
• Computational thinking as its core, helping students to develop the skills to solve problems, design systems and understand human and machine intelligence
• Applying the academic principles students learn in the classroom linked to real-world systems in an exciting and engaging way
• Giving students a clear progression into higher education, as the course was designed after consultation with members of BCS, CAS and top universities.
The Course is made up of two externally set and assessed examinations worth 50% each. You will also complete a programming project during the course utilising Python following the full systems development life cycle from initiation through to testing.
Further information can be found on the OCR website
OCR Cambridge National in ICT
Cambridge National in Information Technologies has been developed to give students a real understanding of their digital environment, develop key skills, and prepare them for their future use of IT in their chosen careers across a wide range of job roles.
Using real life examples from smart watches and music apps to cybersecurity and fake news, students will be taken on a journey of discovery on how information technologies are applied, and revealing to them the extent to which digital footprints impact their everyday lives.
Assessment is as follows:
Unit R012 - Understanding tools, techniques, methods and processes for technological solutions.
Unit R013 - Developing technological solutions
OCR set coursework task, probably a spreadsheet or a database
Further information can be found on the OCR website
Key Stage 5 Information
Students have the choice of an IT pathway in the Sixth Form; BTEC National Extended Certificate in IT (equivalent to one GCE A Level).
This is a two year course which consists of three mandatory units plus one optional unit chosen by the school.
Unit 1: Information Technology Systems – examination
Unit 2: Creating Systems to Manage Information – externally set controlled task
Unit 3: Using Social Media in Business – coursework
Unit 6: Website Development – coursework
This new qualification gives learners a modern and relevant ICT qualification that gives a fantastic grounding to move onto which every pathway the student desires.
Further information can be found on the Pearson website