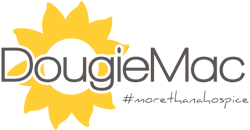 DMH - Our Sixth Form forever Charity
The Sixth Form have adopted the Douglas Macmillan Hospice as their chosen "forever" charity in memory of the much missed languages teacher and Deputy Head of 6th form Mrs Reaney.
Everyday, Douglas Macmillan Hospice provides all hospice services free of charge to over 3,000 adults with life-limiting illnesses in the North Staffordshire area and also provides supportive care for their families and carers. This would not be possible without the commitment of a multi-disciplinary team of staff and volunteers who are vital in ensuring the services continue at the hospice and out in the community.
The hospice is committed to expanding and improving its services, always striving to deliver the very best quality of care to meet the ever-changing needs of the local community.
THE CHALLENGE: Each form group has the task over the academic year to raise a minimum of £100.00 for DMH. In the Common Room there is a charity board where information about DMH and funding raising can be found.
For More Information:
Please visit: http://www.dmhospice.org.uk