Staff:
Introduction:
We are a department with a passion for the performing arts in all disciplines. Our head of department trained as an actor and worked in the theatre and television industry before training in secondary education. We thrive on offering a broad curriculum within the department, as well as championing creativity, ambition and transferable skills. You will learn the performance skills essential for acting and learn to use art forms such as dance, drama, multi-media and theatre design in order to create independent productions.
We aim to provide a relaxed yet hardworking environment for keen performers to grow and thrive within the GCSEs and A-levels you study.
Extra- Curricular
We also offer a wide range of Extra-curricular activities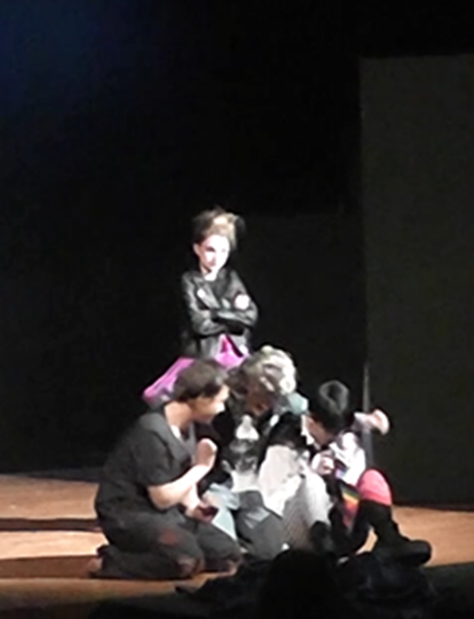 including a weekly drama club which allows students to learn improvisation skills, try out a range of scripted extracts and to create drama about topics important to them. Next year we aim to offer LAMDA examinations for our drama club students.
We also offer the opportunity for students to take part in an annual production as actors, dancers, assistant directors, backstage crew, lighting, sound, costume and front of house team. Our past productions have included The Woman in Black, Alice in Wonderland and most recently The Tempest by William Shakespeare.
Year 9:
Our schemes of learning in year 9 prepare students for the skills and techniques essential for GCSE Drama as well as tackling social, historical and cultural issues linked to PSHE and citizenship.
Term One: We begin with team -building and an introduction to the 5Cs of Drama where students develop: CONFIDENCE, COMMITMENT, COOPERATION, COMMUNICATION, CREATIVITY.
We then continue to study devising with the topic: War and Conflict which includes The White Rose movement in WW2, the theme of modern- day Child Soldiers and Dulce et Decorum est by Wilfred Owen.
Term Two: We study the classic play Blood Brothers by Willy Russell which allows the students to act and direct scripted scenes as well as designing costume, set and sound. Here are some of our designs from this year: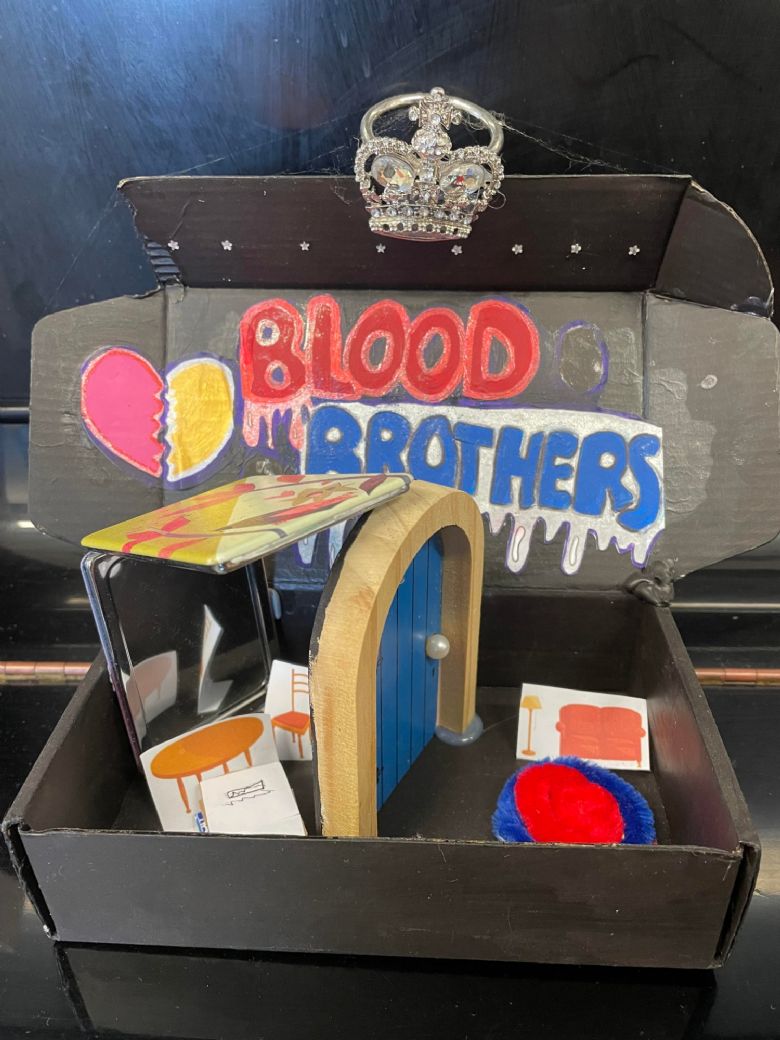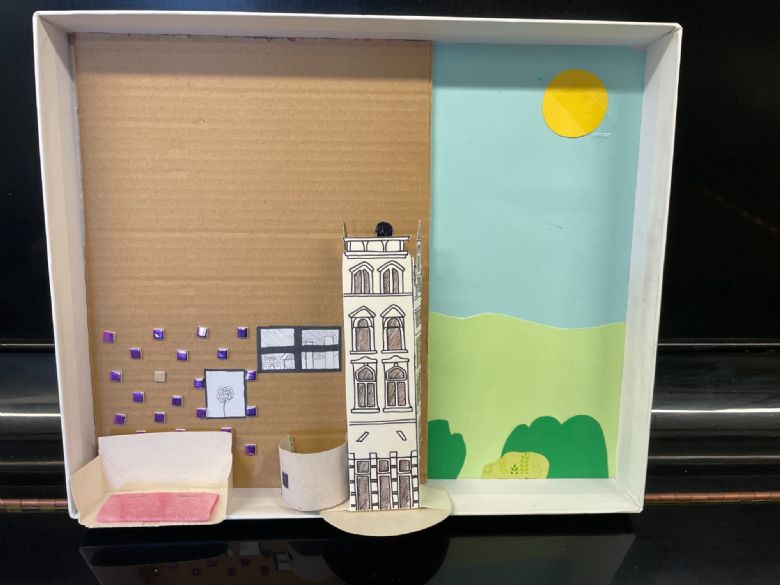 Term Three: We develop analytical skills by watching, discussing and writing about Musical Theatre productions. We also create a live theatre review of Peter Pan from the National Theatre.
Year10:
We begin the Edexcel GCSE Drama course.
Term one: Skills workshops. Getting to grips with the Elements, Mediums and Strategies set out in the GCSE specification as well as an introduction to theatre practitioners and set text.
Term two: Introduction to 'devising'. Introduced to a topic (Missing Persons, Homelessness, Hillsborough) and then the development of drama as a response to that topic. Also, an introduction to writing an analytical portfolio
Term three: 40% GCSE assessment including a devised performance and written portfolio (implementing all skills learnt from terms 1 and 2)
Year 11:
Term one: Introduction to GCSE set text: DNA by Dennis Kelly for the written exam. Introduction to plays such as Kes, Find Me, My Mother Said I never Should for the practical exam.
Term two: 20% GCSE exam. Performance of scripted extracts in front of an outside Examiner. Trip to a national theatre to see a live production (Woman In Black, 2019) to write a theatre review as part of the written exam
Term three: 40% GCSE assessment; Analysis of live production and Set text in preparation for written exam.
Year 12:
Term one: Unit one: Devising: 40% Study of the practitioner Bertolt Brecht. Study of a contemporary play selected each year. Both act as stimulus to devise an original piece of performance and students create a portfolio of the process.
Term two: Continuation of unit one
Term three: Introduction of set text: That Face by Polly Stenham for written exam
Year 13:
Continuation of Edexcel A Level Drama and Theatre Studies
Term One
Introduction to the following;
Unit 2: Practical exam: 20%
Group scripted piece (directed by teacher)
Monologue/duologue
Both performed in front of an external examiner
Unit three: Written exam: 40%
Continuation of the study of That Face from the viewpoint of a performer and a designer.
Introduction of set text and chosen theatre practitioner
Trip to see a national production to enable ability of live theatre review (Things I know to be true 2017)
Term two
Full preparation for both examinations as stated above
Past Productions
Woman in black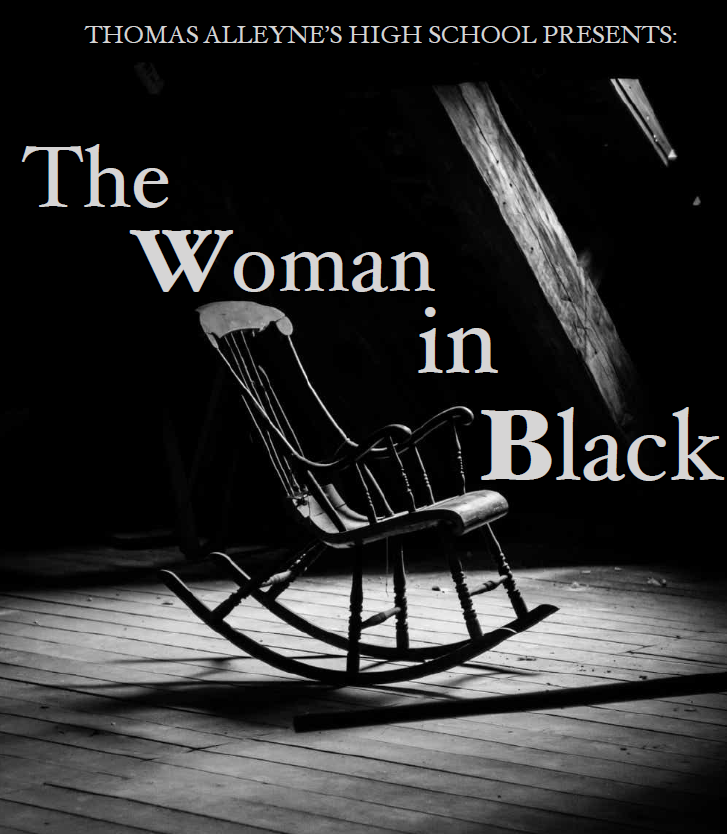 The Tempest