FUTURE INTENTIONS (CEIAG) at TAHS
Careers education prepares you for the world after school. This includes thinking about how you look after yourself as an adult, how you relate to other people and how you fit into society. At TAHS the CEIAG provision is centred on our Future Intentions Programme which has three distinct stages.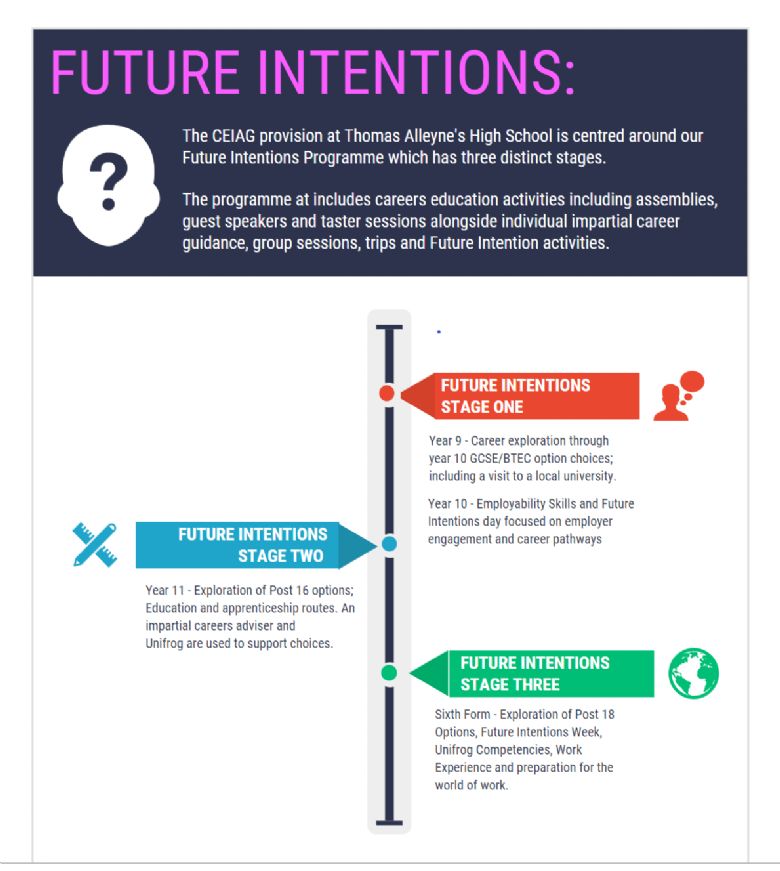 All Year 11 students will be given a wide range of impartial information to make informed choices about their future. This will include an appointment with a level 6 qualified careers advisor. We also hold an annual future intentions evening where we liaise with local and specialist national colleges, training providers, employers and the voluntary sector to ensure that students can research a wide range of options.
Students will be have access to a wide range of resources to support them with their individual choices and this website will be updated with new opportunities and developments.
Who can help you?
Mrs Dodd – Senior Assistant Headteacher, Head of Sixth Form and CEIAG Lead
Mrs Walton, Mrs Young and Mrs Bell – Sixth Form team for support with UCAS, Unifrog, MOOC's etc email sixthform@tahs.org.uk
Mrs Featherstone – Careers Assistant - available within school in our Careers office - Room 74 - to provide information about Post Year 11 and Post 6th Form Opportunities in addition to general information on careers and study options. Email featherstone@tahs.net
Elaine Tomlinson – from Entrust visits the school regularly to give advice and guidance to our students. If you would like to make an appointment for advice then please ask in the Careers office or speak with your form tutor.
Additional sources of information
Labour Market Information
Labour market information which provides students with information about the needs, demands and trends within the local Labour Market can be accessed on the links below:
Nomis is a service provided by the Office for National Statistics, ONS, to give you free access to the most detailed and up-to-date UK labour market statistics from official sources.
https://www.nomisweb.co.uk/reports/lmp/lep/1925185562/report.aspx
Careerometer can be used to explore and compare key information about occupations, help you learn about different occupations and identify potential careers.
It provides access to a selection of UK headline data relating to pay, weekly hours of work and future employment prospects for different occupations, as well as description of the occupation.
Simply type in the title of the job you are interested in and the widget provides a series of options from which you can select the most relevant to you. You can then look up another two occupations and compare. You can also select 'display the UK average' and compare the information with the occupation you have selected.
There is also an attachment containing the Staffordshire labour market report in the documents below.
School policies
Our current and approved CEIAG polices are below.
Please contact the school on (01889) 561820 or
email: futureintentions@tahs.org.uk if you require any additional information.
Thank you
Mrs C. L. Dodd
Senior Assistant Headteacher, Head of Sixth Form and CEIAG Lead